Cleco Assembly Tools
CellCore™ Cordless Assembly Tools
Cleco's new CellCore™ Cordless Assembly Tools
are smart, durable and designed to withstand the toughest environments. The lightweight ergonomic design reduces operator fatigue while delivering state-of-the-art power, weight and balance. A large user interface makes it quick and easy to program rundowns on the tool without a controller.
CellCore™
is the most versatile, easy-to-use cordless tool in the industry. Users can program up to 10 rundown strategies, called "FastApps", directly on the tool in standalone mode. Users can also pair CellCore tools with Cleco's new mPro200 controller. By pairing the devices, users can easily capture data in real time and program advanced rundowns within a much more compact footprint.
CALL 727-847-4900 FOR DISTRIBUTOR PRICES!
---
NeoTek™ Corded Assembly Tools
The Cleco® NeoTek™ fastening system is the next generation of smart tool solutions.
NeoTek™ exceeds the industry's most demanding assembly requirements by combining over 50 years of experience with smart technology. NeoTek tools were engineered to provide 1 million cycles maintenance-free*, while delivering class-leading repeatability of 2.0 Cm/Cmk at +/- 7%.
NeoTek's tool cable features an industry-first quarter turn twist-lock design,
thus eliminating one of the leading causes of tool cable failure: damaged threads. The use of digital communication from tool to controller reduces the number of tool cable conductors from 28 to 8, significantly decreasing cable diameter and reducing weight by 50%.
The centerpiece of the system is the Cleco mPro400GCD-Hybrid Controller, which features a large touchscreen with an easy-to-use software interface.
CALL 727-847-4900 FOR DISTRIBUTOR PRICES!
---
LiveWire™ Cordless Assembly Tools
Up To 16 LiveWire™ Tools. 1 Line Controller.
Save Up to 50% Over Traditional Systems
Mobility is a major advantage with wireless communications. Cleco® LiveWire marries the freedom and flexibility of cordless tools with real-time wireless error proofing. Utilizing a 2.4 GHz /5 GHz WLAN (Wireless Local Area Network) interface in conjunction with the highest security encryption and authentication levels, plus a 512 cycle tool memory buffer, LiveWire delivers the industry standard in wireless connectivity and performance for your safety and production critical data transmissions.
LiveWire offers precision torque, angle and speed control features for safety critical fastening in an ergonomic, wireless design. With up to 1,700 rundowns per battery charge or continuous power, your safety critical applications are assured to never run out of power. LiveWire has been designed and tested to provide wireless connectivity across the harshest of machine-to-machine environments.
CALL 727-847-4900 FOR DISTRIBUTOR PRICES!
Cleco offers pneumatic screwdrivers with a traditional stall type drive or a Clecomatic Clutch, which shuts off the tool at a pre-adjusted level of torque, increasing tool life and reducing operator fatigue.
Offered in both stall type and Clecomatic Clutch varieties, Cleco nutrunners will fasten quickly and accurately at any budget.
Cleco wrenches are engineered to maximize productivity, power, and operator comfort. New CWC, CWM, and CV Series impact wrenches are now available.
Cleco balance arms are engineered to deliver longer service life using durable components, rugged design and operator-sensitive features.
Looking for Removal Tools? Look no further than Dotco!
Cleco and Dotco have a common heritage. Many tools that were once a part of one product line have been transitioned to the other, which may lead to some confusion when trying to find replacement parts.
To ease the process of finding what you may be looking for, we've divided these lines into two websites: Cleco for Assembly Tools such as screwdrivers, nutrunners, and impact wrenches; and Dotco for Removal Tools such as grinders, drills, and sanders.
The following is a complete listing of our product offerings from Dotco. The links will take you to our other site, www.mdi-dotcosales.com.
When it comes to fine finishing applications such as die grinding or de-burring, no tools are better suited for the job than Dotco® grinders. Dotco's reputation for durability, dependability and versatility is among the highest for fine finishing applications.
Dotco Sanders, Buffers and Polishers are available in a variety of styles and power ratings to provide flexibility in choosing the best tool for the job. Disc sanding and polishing, wire brushes, buffing wheels, abrasive sheets, woven or non-woven belts. No matter the application, Dotco has a quality tool solution.
Dotco drills are used daily in applications ranging from aerospace to oil fields and refineries. Three styles are available - pistol grip, straight handle, and right angle models.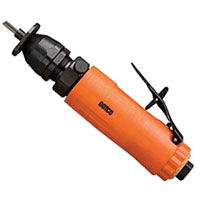 Dotco routers have a patent pending, governed design which allows the tool to idle, increasing its lifespan but providing full power under load. These routers have roll valves that afford easy, convenient operation.
Dotco saws come in a wide variety of models to perform a wide variety of cutting tasks. With choices of blade configuration and exhaust position, Dotco will have a pneumatic saw to fit your needs.
Dotco provides a wide selection of riveters, scalers, and chipping hammers to power through the most demanding of percussion tasks.
Dotco specialty tools are precisely engineered to perform a very specific set of tasks.